Dr. Christie Long on AB 1399: Let's Legalize Trusting Veterinarians to Practice Telemedicine
How California's proposed legislation paves the way for more access, quality, and trust in Veterinary Care.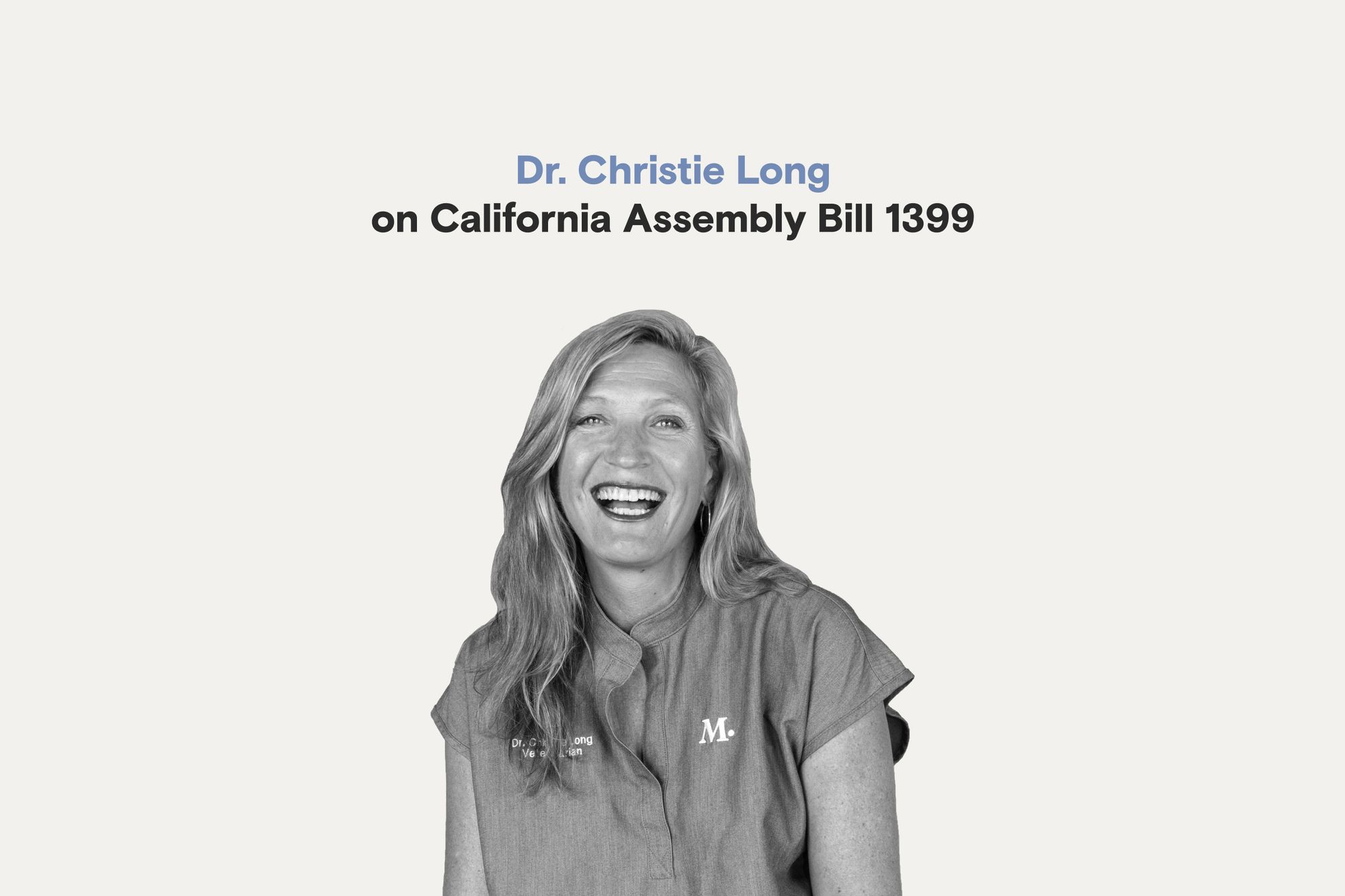 I recently testified in front of the Business and Professions Committee of the California Assembly and advocated for legalizing a veterinarian's right to virtually establish a veterinarian-client-patient relationship (VCPR), a step forward that I deeply believe will propel veterinary care into the modern day where it belongs.
The bill that I spoke in support of, Assembly Bill 1399 (AB 1399), is intended to build upon the authority extended to veterinarians during the COVID-19 pandemic to virtually establish VCPR by way of two-way messaging or video chatting, and omit the need for an obligatory in-person exam to begin treatment of newly presented concerns.
Broadening the legal scope of virtual care through AB 1399 will benefit both California's pet owners and veterinary professionals in a few transformational ways by
Expanding access to care in light of the looming shortage of veterinary care in our state.
Enabling practitioners to offer more comprehensive and quality care to their clients and patients.
Instilling trust in veterinarians to practice medicine in the way they deem most beneficial to their patients.
Let's dive deeper ⬇️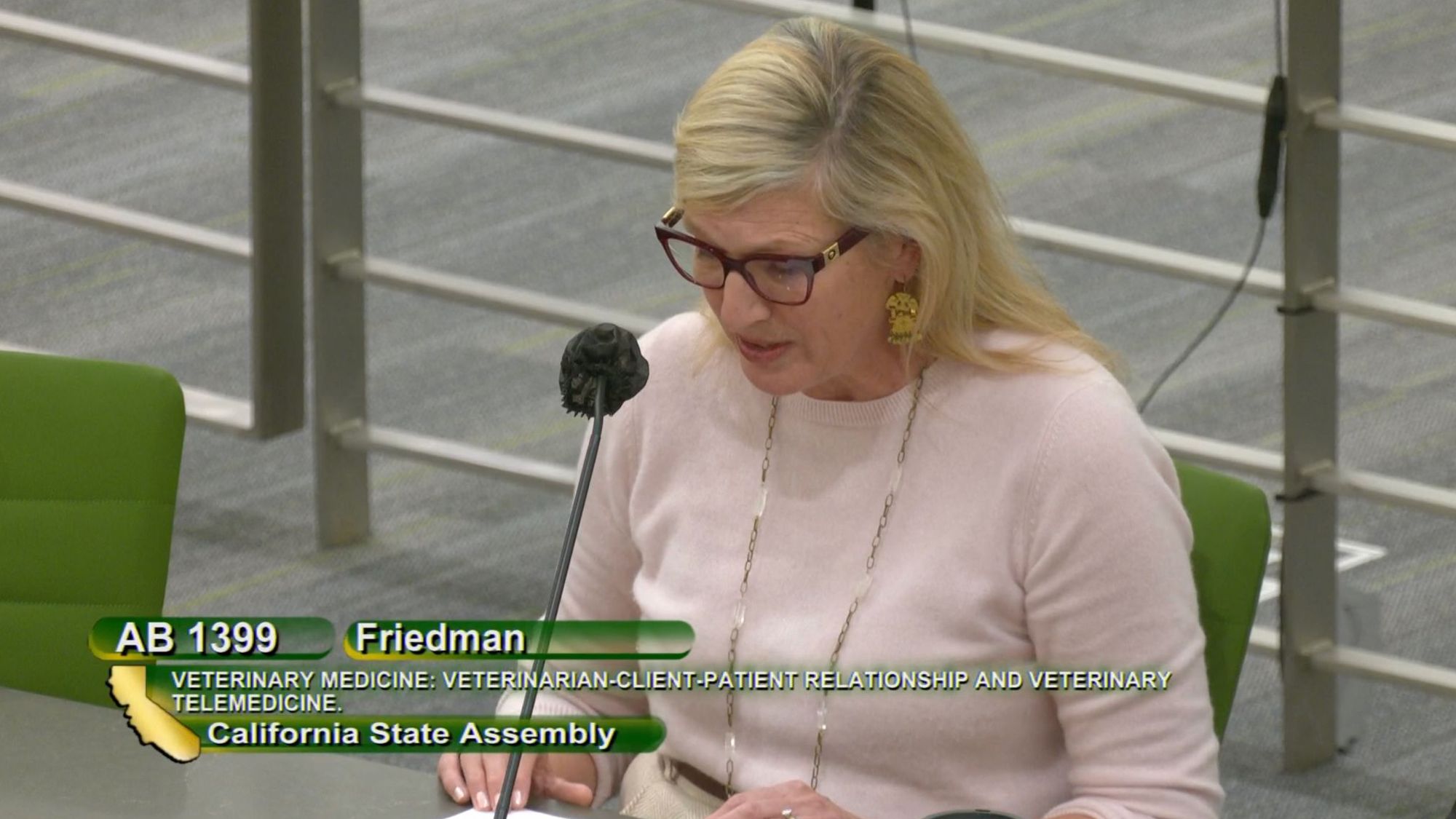 Expanding Access to Care
With an anticipated shortage of 15,000 veterinarians by 2030 as many as 75 million pets could be left without access to veterinary care. So AB 1399 represents more than just an opportunity to modernize veterinary care; it is a crucial step towards safeguarding continued care for all our beloved pets, an essential need that became starkly apparent during the COVID-19 pandemic.
During the health crisis, demand for veterinary services skyrocketed. Our team at Modern Animal, like many others across the state, was inundated with new patients. The temporary relaxation of California's notoriously stringent regulations on the virtual establishment of a VCPR served as a lifeline. It not only mitigated the strain on our clinics but also enabled us to focus on those patients requiring in-person care, illustrating the profound value and potential of telemedicine in our field.
This reality was best embodied by the story of one of our early clients in this time, who, after losing his job and home due to the economic fallout of the pandemic, found himself living in his car with his dog. Our temporary authority to establish a VCPR virtually allowed us to provide him with crucial care, conducted through more than 34 video calls and 7,500 chat messages. Telemedicine, in this challenging time, permitted us to offer the essential care, advice, and emotional support that would help preserve the bond between this man and his dog.
The passage of AB 1399 is essential for ensuring that those in similar circumstances have access to vital veterinary care, irrespective of their situations.
Improving Quality of Care
Modern Animal's experience leveraging telemedicine during the pandemic also suggests that a more comprehensive scope for veterinary telemedicine can improve upon, and sometimes even exceed, the quality of the care that is rendered in-clinic.
Through virtual consultations on our platform, our team quickly found that pets—especially cats and senior pets—are predictably less stressed when at home. By virtually establishing VCPR with patients and observing them in the context of their normal home environments, our team could develop more informed clinical pictures of the issues at hand and provide more comprehensive aid. What's more, by removing the frictional barrier of forcing our members to arrange clinic visits just to surface an issue that could've been adjudicated virtually, our team could provide care earlier in the course of disease or distress, lean into preventive care, and ultimately guide our members and their pets to better outcomes sooner, rather than later.
Notably, throughout the entirety of the pandemic, we did not see a single adverse outcome stemming from the provision of virtual care—we have nothing to lose and everything to gain from passing AB 1399.
Trusting Veterinarians
The heart of AB 1399 is really about the trust we place in veterinarians—this is why I advocate so strongly for this bill. California's post-pandemic reversion to the regulations that have limited us from using telemedicine to its full potential feels like a glaring vote of no confidence.
This bill is an opportunity to change that.
As veterinarians, we are oathbound to protect animal health and welfare. We spend years undergoing rigorous education to obtain our credentials, and then countless more gaining experience and honing our craft in the field. Trust us to use our schooling, licensure, and experience to make decisions that are in the best interest of all concerned as to when care can be delivered by electronic means and when it cannot.
Looking Ahead
The potential benefits that Assembly Bill 1399 will ensure for the pet owners and veterinary community in California are abundant and obvious—broadened access to care, enhanced quality, and the fostering of indispensable trust in this profession are just a few. The pandemic showed us the possibilities, and AB 1399 will make them a reality.
And here's the thing: the path forward is not untrodden. Several other states, most recently Arizona, have outpaced California by enacting laws that broaden telemedicine's reach and validate trust in their veterinarians. As a state known for progressive innovation, California should do the same.
Now let's make it happen.
---
Following Dr. Long's testimony, AB 1399 was approved by the Business and Professions Committee with a unanimous vote. After being debated in the California Assembly, it was passed unanimously to the Senate on May 31, 2o23. It now has been forwarded to the California State Senate for further consideration.