Overcoming Obstacles for Modern Women in Veterinary Medicine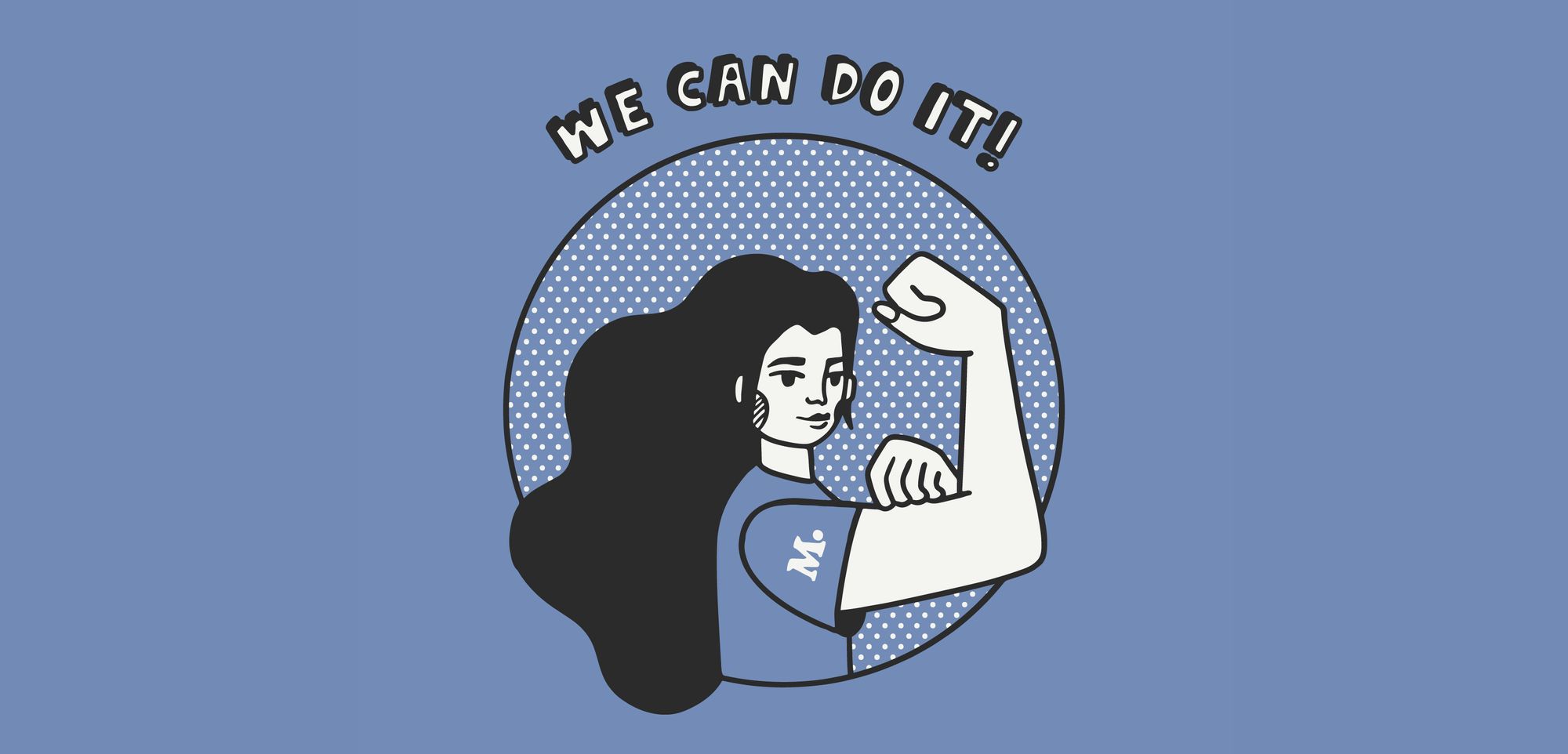 Reflecting on the Legacy of Dr. Elinor McGrath
In 1950, Dr. Elinor McGrath wrote to the Women's Veterinary Medical Association (WVMA) Bulletin: "The only rule I made [in my life] was that if I had a goal to reach, I overcame the obstacles involved."
Born in Milwaukee County, Wisconsin in 1888, Dr. McGrath was the first woman to earn a veterinary degree from Chicago Veterinary College in 1907–a full decade before women were granted the right to vote. Her successful career spanned several decades, at a time when veterinary medicine was rapidly advancing. While it's difficult to imagine a time when women were not represented in the veterinary profession, the reality is that just 60 years ago, a mere 2.7% of veterinarians in the United States were female. In the early to mid-20th century, women were largely banned or excluded from higher education, and a majority of veterinary schools outright rejected applicants on the basis of gender. We have Dr. Elinor McGrath to thank, among other female veterinary leaders such as Dr. Florence Kimball and Dr. Jane Hinton, for laying the groundwork to advance gender parity, fair pay, and equal employment opportunity in the veterinary profession.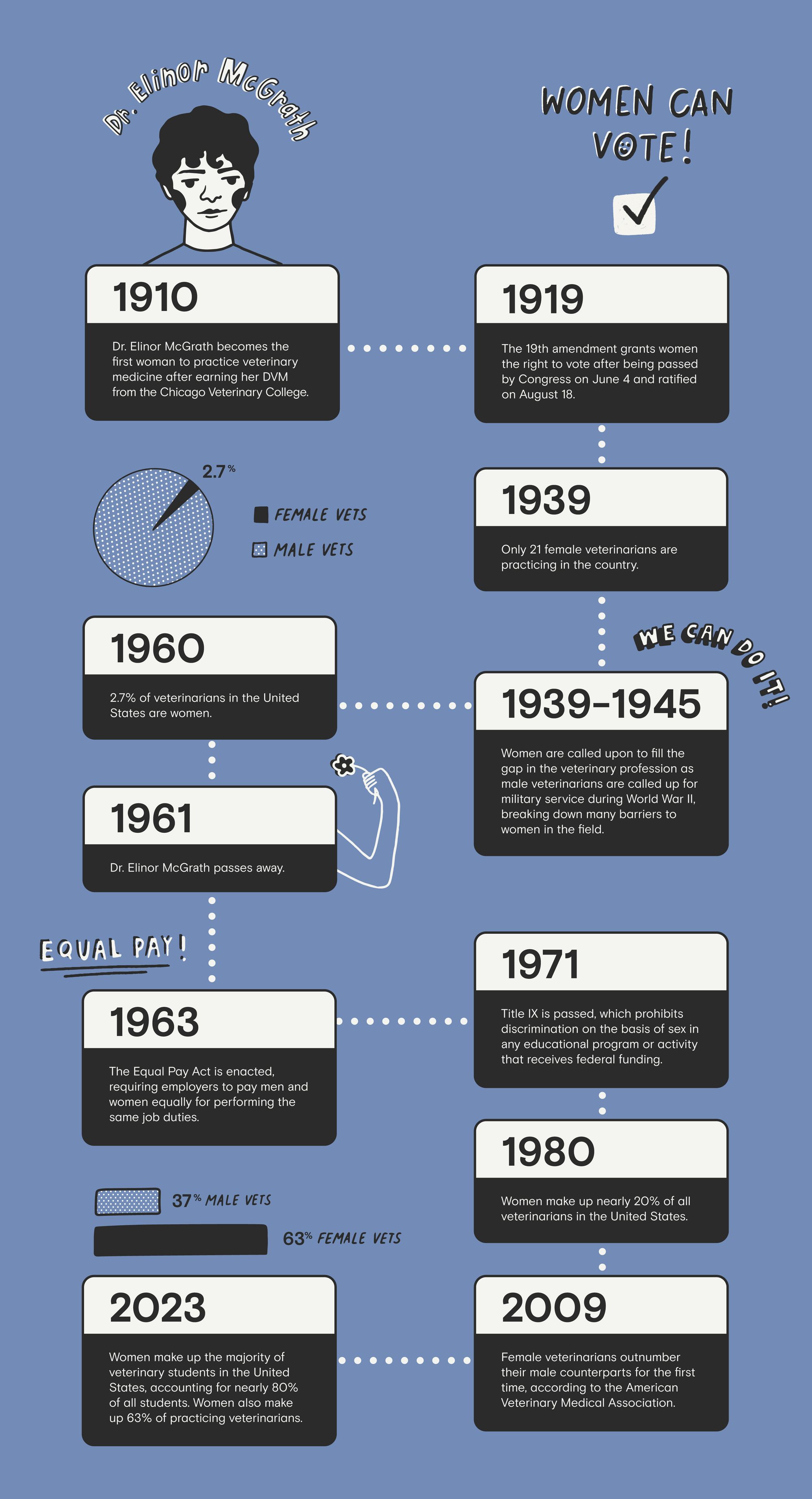 Supporting Women in Veterinary Medicine
In 2023, women now make up 63% of practicing veterinarians in the United States. While it's easy to think that the hard work is done, we can't rest on our laurels. This Women's History Month, in honor of Dr. Elinor McGrath, let's explore modern-day obstacles for female veterinarians and how Modern Animal is working to solve these problems collectively.
Balancing Motherhood and Veterinary Medicine
Being a mother in veterinary medicine can be challenging. Research suggests that around 73% of mothers in the veterinary profession have faced discrimination due to their maternal status, which is simply unacceptable. As many women know, juggling job responsibilities with childcare can be difficult, and environments without maternity leave or adequate paid time off can leave female veterinarians drained. At Modern Animal, we're proud to offer strong policies in support of our female veterinarians, including:
Job protection for veterinary mothers, to ensure that female veterinarians who are pregnant or who have recently given birth are not discriminated against due to their maternal status.
Pump breaks for veterinary mothers, so they can take the time they need during the workday to express milk and keep their milk supply going strong.
Generous paid parental leave for our veterinarians to spend needed quality time with their newborns.
Generous paid time off, so our veterinarians can take the time off they need to feel rested, recharged, and ready to be their best.
Remote veterinary positions, which allow female veterinarians to work from home and meet patients virtually. This is a great way to maintain work-life balance as virtual care shifts are standardized to be 8 hours long, 5 days a week.
Encouraging Female Leadership and Mentorship
It's well known that women are still underrepresented in leadership positions within the veterinary industry, despite being the majority of practicing veterinarians. At Modern Animal, we are constantly working to create opportunities for women to advance their careers and take on leadership roles. If you're a female veterinarian considering entering the field, we encourage you to:
Map out your career path with our team, to explore the best roles for you. We offer a wide variety of veterinary roles, including but not limited to: Regional Veterinarian, Relief Veterinarian, Virtual Veterinarian, Lead Veterinarian, or Area Medical Director. For more information on specific roles, you can visit this page.
Request a female mentor, to work side-by-side with them in the clinic, and gain access to dedicated training sessions for surgical development, medical quality, communication skills, and time management.
Utilize your allowance for continuing education opportunities, which helps you network with like-minded female leaders in the veterinary industry.

Promoting Pay Transparency
Despite the fact that women make up a majority of practicing veterinarians, they still earn less than their male counterparts. At Modern Animal, we see the impact of being thoughtful in our compensation philosophy and quality of benefits, and believe that all employees should be compensated fairly for their work and experience. To do so, we offer:
Fully guaranteed salaries for veterinarians, to enable work-life balance.
Equity in our company for veterinarians, to reward them for our shared success.
Company 401(k) match, which helps you prepare for your future with a 401(k) plan through Empower with a partial company match program.
Paving the Way for Future Female Veterinarians
Over the past century, we've seen monumental changes for women in veterinary medicine, from gaining access to veterinary school to outnumbering their male veterinary counterparts for the first time in 2009. We've come so far, but the work is far from over. At Modern Animal, we are committed to continuing to advance women in veterinary medicine by:
Enacting policies that promote work-life balance, such as remote work, pump breaks, paid time off, and paid parental leave.
Creating effective mentorship programs, leadership paths, and continued education opportunities for female veterinarians.
Promoting pay transparency and pay equity to help combat the pay gap.
In 2023 and beyond, we are committed to expanding our internal policies to support female veterinarians. Our goal is to create an environment where female veterinarians feel comfortable bringing their voice to the table, knowing they'll be truly listened to and supported as leaders. To stay up to date on our wide range of benefits and perks to support our teams' wellbeing, visit careers.modernanimal.com. To all the female veterinarians in our industry, thank you for the hard work you do. We wouldn't be where we are without you.