Inside Modern Animal's Periwinkle Parlor at VMX 2023
Real Tattoos. Veterinary professionals. VMX 2023. Probably words you never thought you'd see next to each other.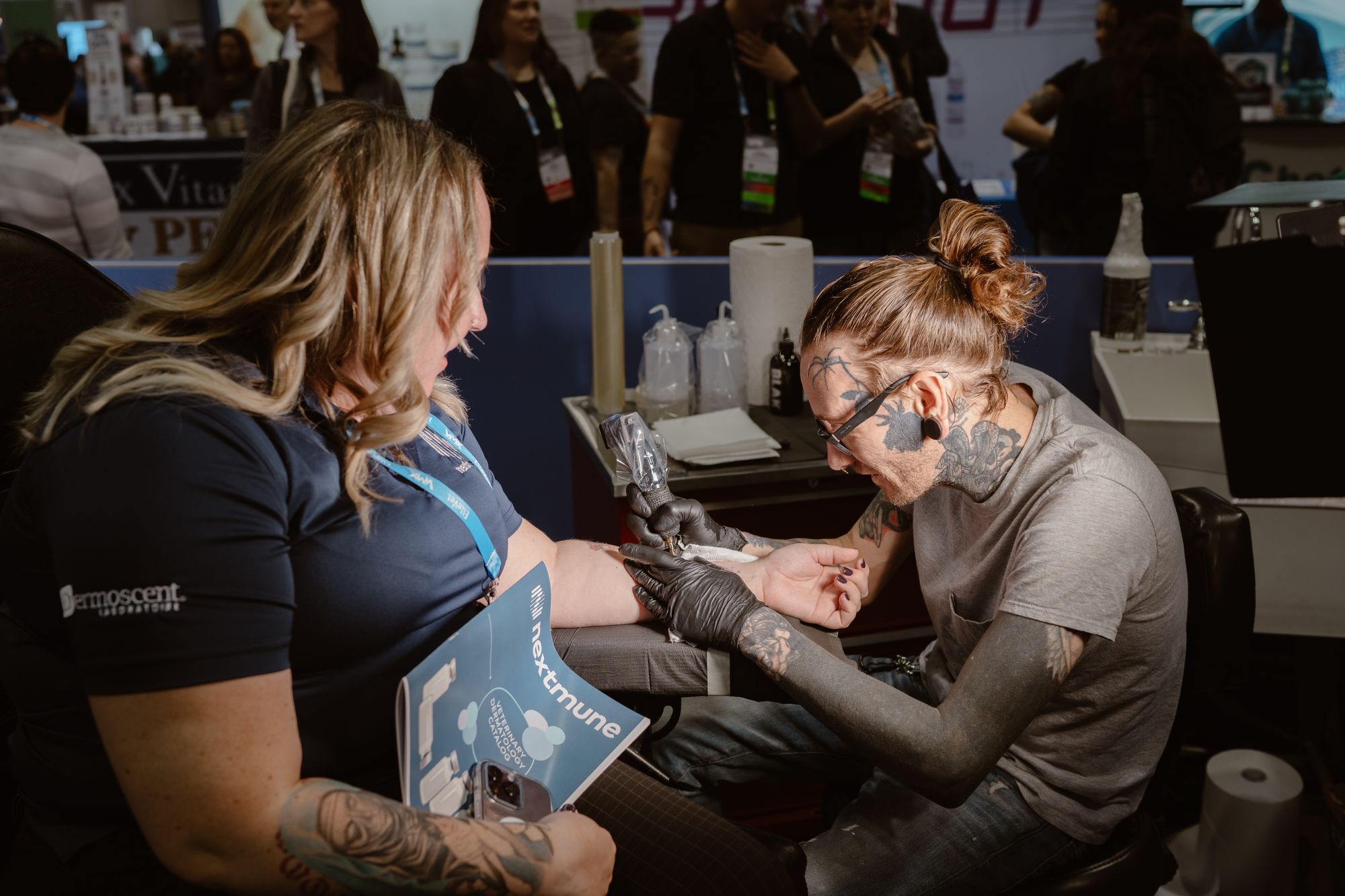 If you can't tell by now: Modern Animal has a way of doing things differently.
Need proof? Aside from some of the more obvious examples, like our built-from-scratch clinics and technology, what if we told you that we gave real (permanent) tattoos to dozens of veterinary professionals right in the middle of the biggest veterinary convention in the world, for free.
 
Well at this year's VMX in Orlando, Florida, we did exactly that. Meet Modern Animal's Periwinkle Parlor.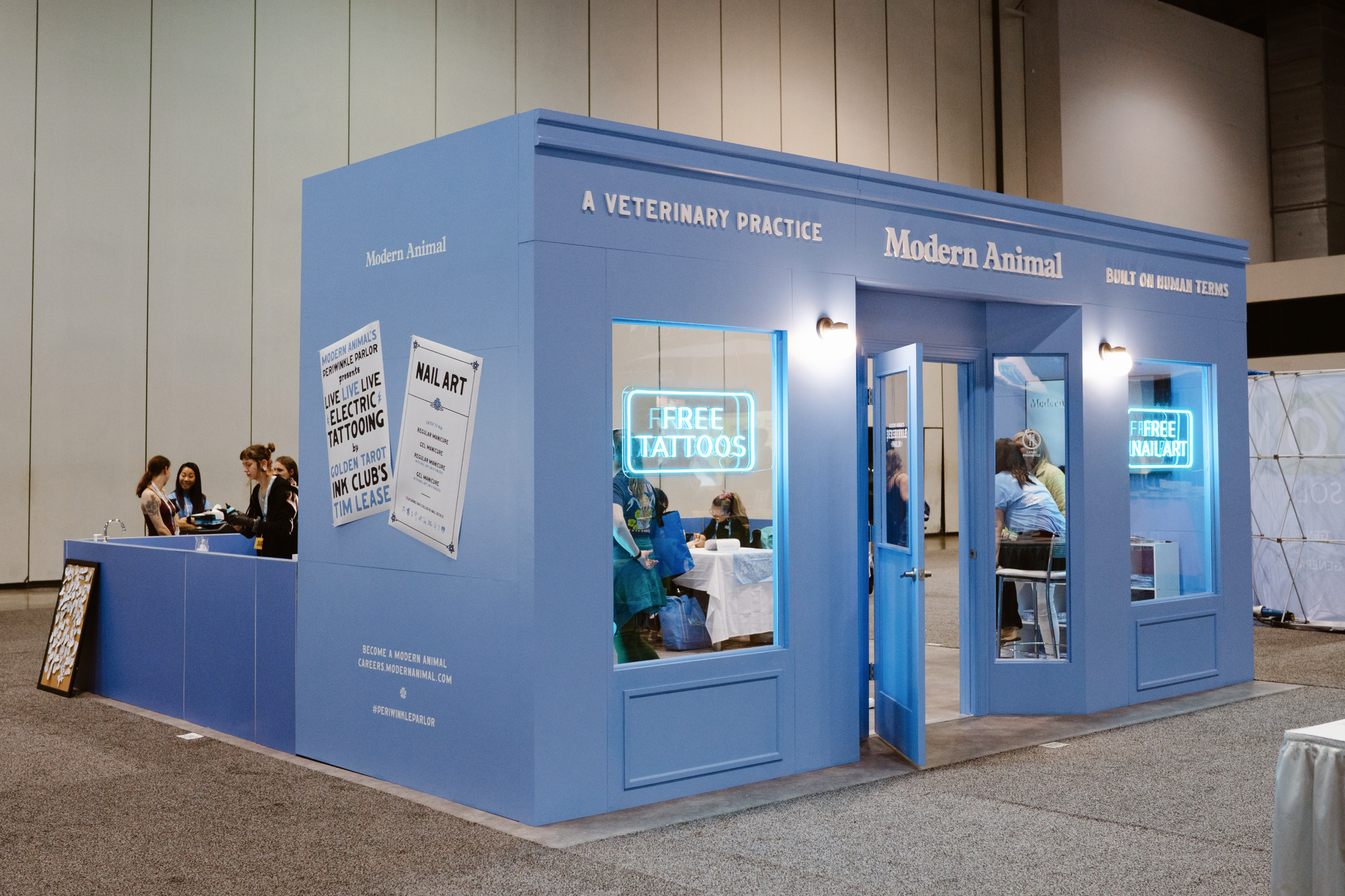 You Gave What!? To Who!?!? Why!?
Real Tattoos. To veterinary professionals. At VMX 2023. Probably words you never thought you'd see next to each other. We can explain.
If you're in the profession, you probably already understand the connection between veterinary professionals and tattoos. For the uninitiated: walk onto the treatment floor of any veterinary clinic (especially a Modern Animal clinic) and you might notice that many members of the team have chosen to tell their stories as veterinary professionals through their tattoos. Pawprints, pet names, scalpels, stethoscopes. It's a special part of veterinary culture that represents the creativity, individuality, and passion that so many in the profession share.
 
The Periwinkle Parlor is our big, periwinkle-colored, neon-accented way of paying homage to this special part of the culture (while also making some new friends along the way).
💡
A Brief Bit of Modern Animal History.
VMX 2023 wasn't The Periwinkle Parlor's first rodeo. The Periwinkle Parlor was first introduced to the world at PacVet 2022 with the help of Moth and Dagger Tattoo in San Francisco. And was followed up by a team-exclusive tattoo party during our celebration of Vet Tech Appreciation Week. Follow The Periwinkle Parlor's entire journey on our Instagram
@modernanimal
.
The Periwinkle Parlor at VMX 2023 (feat. Golden Tarot Ink Club)
For VMX 2023's experience, we combined forces with world-renowned tattoo artist Tim Lease (Ink Master Season 12) and his Orlando-based tattoo shop, Golden Tarot Ink Club, to create custom veterinary-themed flash sheets and bring a unique live tattooing experience onto the floor of the expo hall. Guests of VMX  could enter a raffle for a chance to win one of the coveted tattoo appointments, completely free of charge to them.
We were humbled by the excitement surrounding The Periwinkle Parlor throughout the conference, and genuinely appreciated the opportunity to hear members of the profession share their tattoo stories while they added to—or started—their collections with us (Fun fact: 6 people got their first tattoo with us at VMX!). A heartfelt thank you to everyone who made our first appearance at a national conference a memory to last a lifetime.
(See what we did there? 😉)
The Periwinkle Parlor, in Photos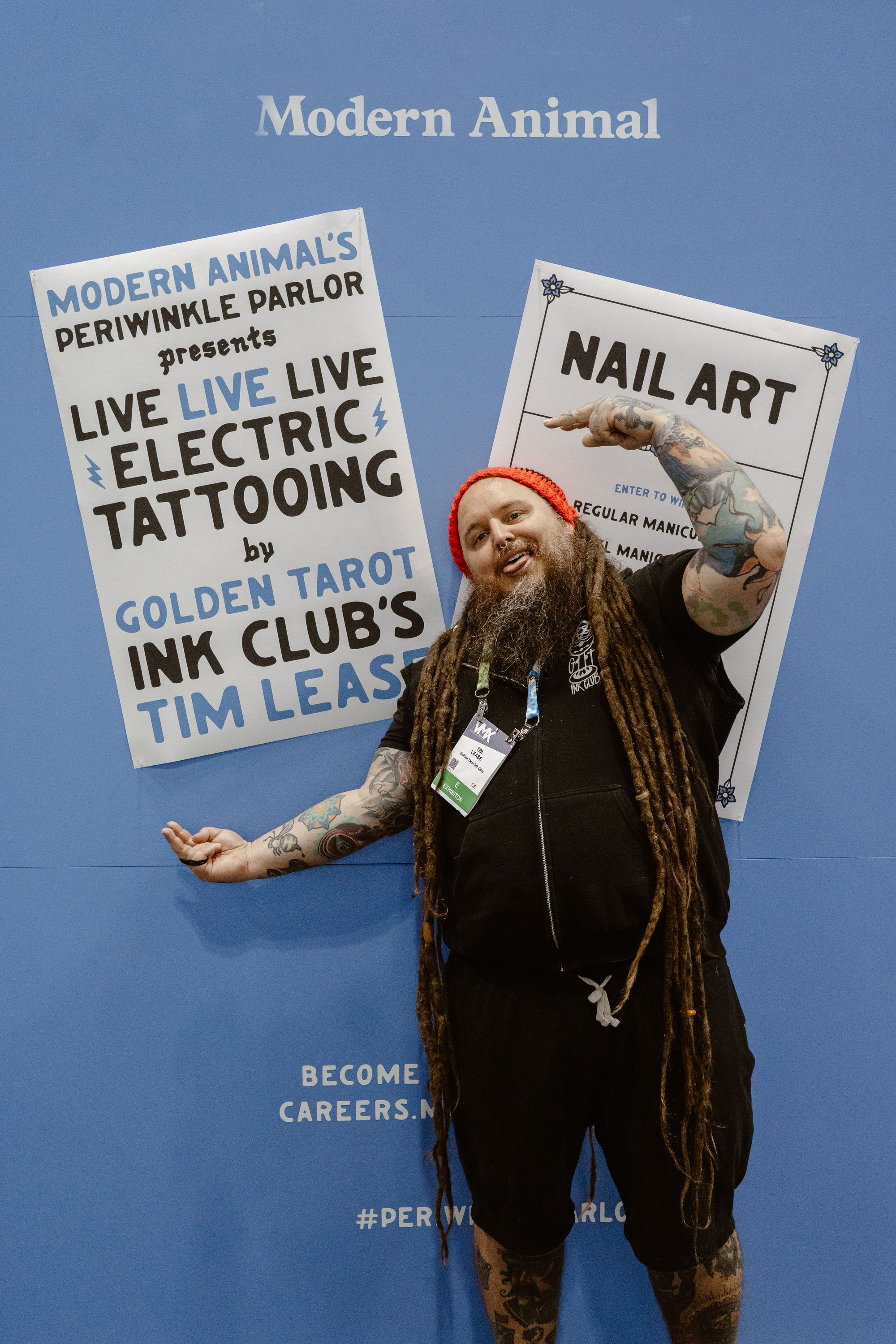 Where We're Headed Next
The Periwinkle Parlor's World Tour isn't over yet. Curious about where The Periwinkle Parlor might make its next stop? Give us a follow on Instagram @modernanimal.