Building a Veterinary Company from Scratch: Modern Animal x Startup to Storefront
Modern Animal founder Steven Eidelman sat down with Startup to Storefront to discuss what it means to practice veterinary medicine from the ground up.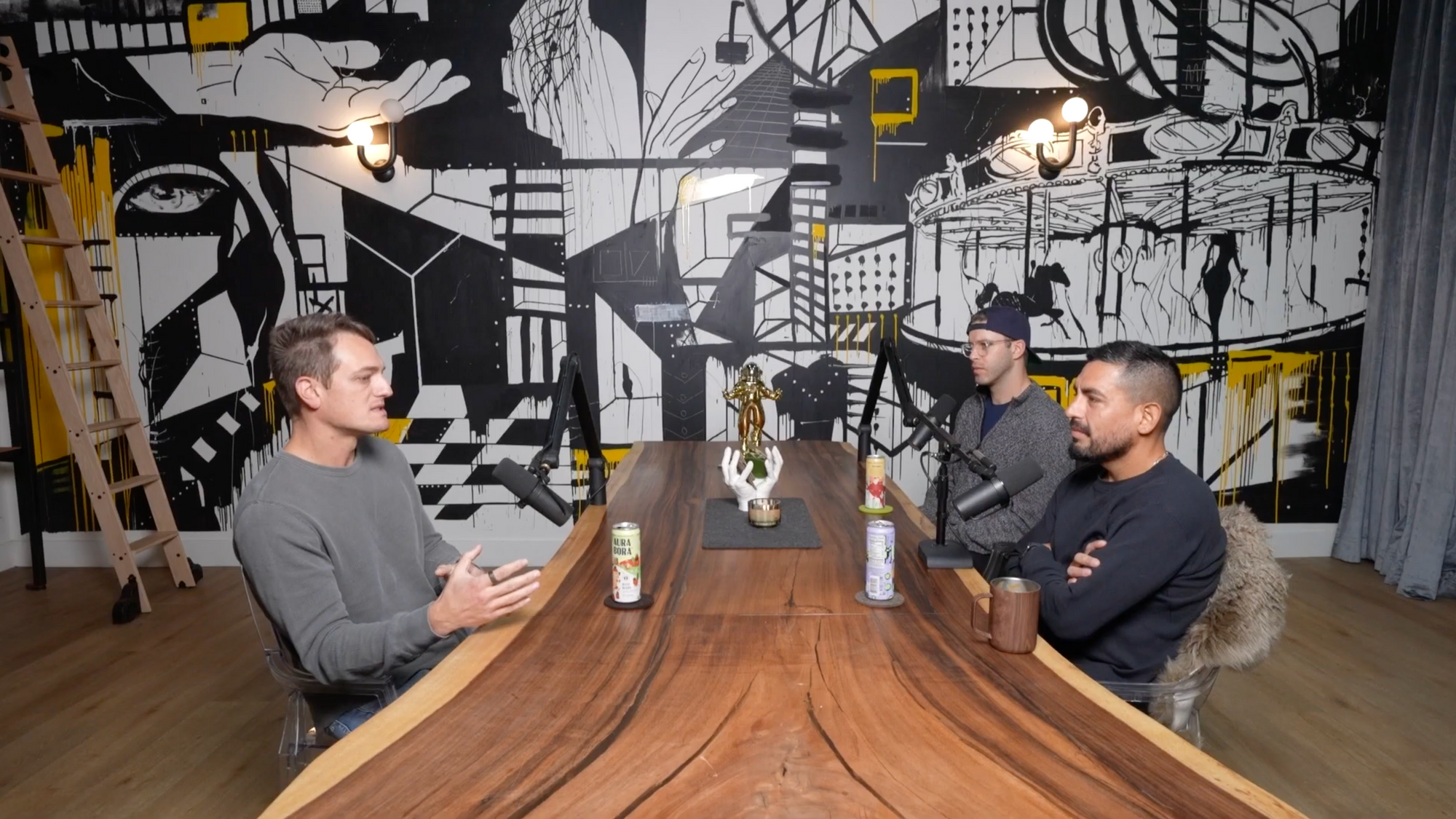 Interview with Steven Eidelman, Founder of Modern Animal
"The only way we can give great care is if we also take care of humans," says Modern Animal's founder Steven Eidelman on the Startup to Storefront Podcast while reflecting on why he started Modern Animal.
When Steven began the process of founding Modern Animal, he knew the company needed to be built from scratch in order to fulfill its mission of "bettering the lives of animals by building a better place for all of us who love them." In this episode, Steven covers:    
The origin of Modern Animal
The ongoing trend of consolidation in the veterinary industry
Solving for gaps in the veterinary care experience through building custom technology and thoughtfully designed clinic spaces
Creating a sustainable membership model
The nationwide vet shortage, and what that means for the veterinary profession in the coming years
Giving away free tattoos (yes, real tattoos) at the largest veterinary conference in the world
Watch (or read) the full episode below.
Full Episode Transcript
Diego Torres-Palma:
All right, welcome to the podcast. On today's show, we're talking to the founder of Modern Animal. Steven, thanks for joining.
Steven Eidelman:
Thanks for having me.
Diego Torres-Palma:
For people who don't know, what does your company do?
Steven Eidelman:
Modern Animal is a new veterinary hospital group. We are basically reinventing veterinary care, bringing it into the future. It's been stuck in the past for a very long time.
Diego Torres-Palma:
And what made you want to start the company? Whistle is similar in some sense–your former company. Are you just an animal lover? Are you someone who has a tech mind, had a dog or a cat, and then went into a vet clinic and experienced friction? What was the "thing" that you were like: "There's an opportunity to solve it, or I don't like it, or I want to change it."
Steven Eidelman:
The origin of it is more of an episode out of Silicon Valley. My roommate and I, about 11 years ago, had a whiteboard. We were both investors, really wanted to be entrepreneurs.
Diego Torres-Palma:
So you came from the investor side?
Steven Eidelman:
We came from the investor side, and both of us had dogs growing up, so we put pets up on the board as one of the potential places to go build a business. It's a horrible way to start a company. We both were management consultants before, so that's how it started. We knew it was a good industry and didn't really understand anything else. If you're sitting around and you're an investor, or just in general in your earlier your career, you don't really know anything that deeply. And that's where a lot of really good ideas come from is seeing something up close.
So for Whistle, we knew that there was, broadly speaking, the pet industry was huge and under-appreciated. We knew that there wasn't really any great brands in this space and that there wasn't much technology. So that was 11 years ago, maybe 12 years ago at this point, in the beginning. We were definitely not pet fanatics or anything like that. And actually I had a lot of hesitation going into the category because of the perception of leaving my pedigree career to go work in pets.
Diego Torres-Palma:
Without a pet. Did you have a pet?
Steven Eidelman:
At the time, I had my family's pet. So I think within weeks of incorporating my own company, my co-founder, we drove down to LA, we were in the Bay Area, we drove down, and we went to Healthy Spot. He rescued a dog within weeks of us starting the company. But I was like, "We're working 16 hour days, 18 hour days, traveling a bunch. I can't have a dog." So my family's dog came up and stayed with me for a while. But no, I think early on I always loved animals. I mean, the way most Americans love animals.
Diego Torres-Palma:
We're not calling you an animal hater.
Steven Eidelman:
No, no, but I think that there's always this perception of: why did you choose to go into whatever the category is? Do you have this deep passion about this specific surface level category? And so Whistle was really born out of wanting to be an entrepreneur. That journey was mostly marked by what is the painful journey of product market fit, and we were fortunate to raise capital for our initial round. We built our first product, which was initially meant to be a health monitoring device. We spent a lot of that capital building that product. We launched a year later, and I'll never forget the first day we launched, we stayed at our head of engineering's house. All of us slept on the floor. We launched it at 6:00 AM in the morning and we saw the initial Google Analytics data and it was like, oh, people aren't buying this thing.
And for most of our team, they were excited. It was celebratory. We had just launched, but I drove home that day being like "this isn't going to be a journey." The data is showing us that people don't want this thing we missed on product market fit. That was a really important lesson I think, in building that business for sure. And hardware, consumer electronics, they are very hard to iterate on, so I think that there wasn't much more we could have done to really iterate without having built the thing. But there always is more you could have done.
So I think for us, that lesson was learned the painful way. We iterated into where we did see a lot of interest, which was more around GPS tracking, which was an obvious thing (10 million pets get lost a year). So we realized people want this, and so we ended up iterating and moving more into location tracking. We built this device that more people wanted, but it was actually completely divergent from the original intent of the business, which was really pet health. So the vision 10, 11 years ago, which is very relevant for now Modern Animal, we saw a very clear opportunity around pet health, both in terms of the market growing and people wanting to invest more in their pet's health.
Diego Torres-Palma:
And what year is this now when you're having that understanding?
Steven Eidelman:
This is 2013. So we incorporated in 2012, we launched a year later. And so we were iterating 2014, 2015. We iterated more towards the GPS tracking device, which was a much better business, but much less interesting strategically to what I had started to become really interested in, which was this pet health problem of people wanting better access to pet healthcare for their pets, and pet healthcare actually improving yet access being poor. And we'll get more into that, but also how people deliver it being really backwards or just outdated.
So that was 2015 or so, we ended up partnering with a big strategic player in the pet space, who ended up acquiring us a year later, and that was Mars Pet Care. Most people think of Mars and they think of Confection Candy. Incredible business. Massive family. A hundred year old business. They decided to double down in pet care, so they had already built out a really big CPG pet food business. They also decided to double down on veterinary care, so over the course of a few years, they bought us really with an eye towards our original vision, which was tracking pet health, and veterinary services. They bought Banfield, which was partially owned by PetSmart. They bought VCA, which is based here in LA as well. And so overnight, they became the largest operator of veterinary hospitals in the world, and we were acquired as sort of part of this bigger vision. And so I ended up at Mars in 2016. I was there for a few years.
Diego Torres-Palma:
Did you like being there?
Steven Eidelman:
There? I learned a ton and there's an incredible group of people, I think.
Diego Torres-Palma:
But the golden handcuff period is awful. Generally, maybe not, I don't know. I guess if you're learning, it's okay.
Steven Eidelman:
But yeah, I think for me, the journey of building Whistle was a tough journey. I think for me it was a welcome reprieve and just an opportunity to recover. I got married, I had my first son, got a mental health break, a physical health break, moved back home to LA.
At that point I was eager to get back on the whiteboard. And it was funny, the whiteboard felt very similar to 2011, 2012. It was again, sort of words on a whiteboard. And I was really set on, I don't want to be in the pet space. I don't want to be a pet guy at this point. Now I have a dog and I'm like, I love my dog, but I don't want to do pets the rest my career. And I was really eager to find something else. And I was kind of back on the whiteboard, talking to different people, and I was like, this all feels eerily similar, and I know where this path leads.
Diego Torres-Palma:
But you knew the problem. I mean, that's one way to look at it, too. And so we had Dave Greenfield who's over at Dream Pops, and he came from a management, almost like a finance background, and really understood how people eat ice cream, and how there isn't a good-for-you ice cream. And so he went from basically New York finance to, oh, there's an opportunity here. And just making the same thing (like a bon-bon) healthier, and then just creating a marketing campaign that structures that in a way to boost you into success. And that was his background. Obviously for him, it's easy to say he loves ice cream, but I think the truth of it is he just saw the spot. He saw the area that people were neglecting, which is similar to what you're doing.
Steven Eidelman:
I mean, ultimately that's what happened. So yeah, I'm doing my earn out, trying to do my best to hand off Whistle to other managers who were going to lead that business. And I got asked to help work on innovation around the veterinary business that they had just acquired. And that's where I started seeing a lot of things much more up close, to your point. So while I was in my mind thinking I need to get sort of away from the pet category, what actually was happening in parallel was getting much deeper into it. I was spending a lot of time in veterinary hospitals. I was spending a lot of time thinking about the problems that the veterinary industry was facing. And a lot of these things started to become really obvious to me. And the vision for what is now modern animal became very clear.
And at some point you asked yourself, well, what is it as an entrepreneur that I'm actually trying to do? I'm trying to solve a problem for as many people as possible, build a great business. And that was actually what I had fallen in love with. When I say the pet category, that's like this very surface level thing. Well, what is it that the business is, right? And so building Whistle, which is a consumer electronics device company, versus building what is now Modern Animal, which is a veterinary services company, could not be more different. And the fact that they're in the pet category is really just the corner of the universe that I find myself in now. And so I think in some ways, what I saw was a very clear vision and a very clear problem, and a group of people who I had quite frankly just fallen in love with helping. I've met so many veterinarians over this period of time at this point, I'm now 5, 6, 7 years into this category. All the conferences I'd go to, all of the stories I had heard, all of the days I had spent thinking about this problem were now basically my entire sort of surroundings and all of the context of my professional life. And so as I got deeper into it, I started seeing things that other people weren't seeing.
Diego Torres-Palma:
What was the thing? What were the signals?
Steven Eidelman:
The problem was the veterinary medicine had never really focused on the people because you think I'm in the pet space.
Diego Torres-Palma:
The owners or the vets?
Steven Eidelman:
Both sides. And so that's where it was really the human experience of veterinary care.
Diego Torres-Palma:
In what ways?
Steven Eidelman:
The pet owner experience for anyone. Do you guys have pets?
Diego Torres-Palma:
No. No.
Steven Eidelman:
Okay.
Diego Torres-Palma:
Just like you.
Steven Eidelman:
(Laughing). Yeah, it's okay. Okay. Well, I'd always had dogs. And so I always knew as a pet owner, the experience was really a subpar.
Diego Torres-Palma:
Walk me through it. So I have a dog. It's injured. Something doesn't go, I take it to the vet.
Steven Eidelman:
You're going to a vet practice that you find in Google or Yelp, or your friend tells you about. Maybe it's one where your family has gone to for a long time in the neighborhood.
Diego Torres-Palma:
And do they do the thing? Fluffy walks in, they go, "Hey, here's a form fill out for Fluffy."
Steven Eidelman:
"Here's a form," but maybe you can't even get into the first place because, especially the last few years, it's been booked up way out in advance. So you're calling, you're on hold. They finally say: "You can come in!" You're waiting in the waiting room for a long time. The reality of veterinary medicine is the people who work in the industry are amazing. And these are people who have committed their careers to serving animals. They're incredibly passionate. And in many ways, when I decided to build Modern Animal, it was in recognition of this is an incredibly noble group of people. They're overcoming incredibly expensive schooling, usually getting paid less as an industry relative to human healthcare counterparts, and they're putting up with way more drama in the day-to-day of a veterinary practice than you'd expect. You think, "Oh, you must be playing with puppies and kittens all day."
You're actually dealing with really stressed out, frustrated pet owners who are incredibly anxious. Veterinary medicine is delivered with a few factors that are important to recognize. One, the animal can't speak, so you're trying to figure out what's going on with this being that can't communicate. There's now three parties, instead of when you go to the doctor, it's just you and the doctor, right? There's three parties. It's a much more akin to sort of going to the pediatrician with a child. But you have this animal and you have a situation where, from a financial sort of backdrop, people are paying all out of pocket for veterinary care. Even if they have pet insurance, that system doesn't actually speak to the veterinary care delivery system. And so you submit your invoices afterwards, and hope you get reimbursed. And so it's really expensive. It feels really expensive.
And in this moment, you have all this fear and anxiety. You have this being that you love unconditionally. You have this doctor who you hope has their interests at heart, and almost every single veterinarian does. Yet there's this thing called money that comes in the middle of it. So now all of a sudden you start doubting their intentions, you start maybe acting out of your own emotion. It just makes this whole dynamic incredibly complicated. And so these people themselves are working in these environments. We were just talking through the pet owner's journey, a little bit about the waiting room, the forms, and the whole time. The much worse situation that people don't see is what's happening behind those double doors. And this is what I really got to see.
Diego Torres-Palma:
What's happening behind the double doors?
Steven Eidelman:
It's just an afterthought. The experience of the people who work there is just an afterthought. The systems to support them, the culture, the training, the overall environment that they are put in, to facilitate the number one thing that everyone is there to do, both the pet owner and the practitioner, is to deliver high quality medicine. And so Modern Animal, when you look at our website, you'll think: "Oh, they have an app. They have this brand, they have these beautiful clinics." But really the whole purpose of the business was to build a system that delivers the highest quality medicine reliably at scale. And to do that by focusing on human beings, to focus on the member experience (all of our pet owners are members), to focus on the member experience, and focus on the experience of being an employee, and are you able to deliver great medicine reliably?
That's the whole point of the business. And what we realized was to do that, we had to build it from scratch. And that's really important because of the industry is dominated by legacy clinics that have been around for a very long time and they're good businesses. And so in a lot of other categories, service categories, you've seen a wave of consolidation in recent decades. And so there's just been a massive focus on big financial institutions coming in, buying up, rolling up veterinary hospitals and essentially keeping overhead as low as possible because these things are delivering financial results that make sense for the investors, and really not investing in the systems, the tools, the people, the process to improve. You walk into a clinic and it really does feel like it's 20, 30 years sort of stuck in the past.
And veterinary medicine's been going through a big crisis. Right now we're experiencing a crisis just around a shortage of veterinarians.
Diego Torres-Palma:
And everyone's got a dog now. Everyone's got a dog. One in five households in America has a puppy.
Steven Eidelman:
Well, two-thirds of American households have pets.
Diego Torres-Palma:
Two-thirds?
Steven Eidelman:
During covid, 50% of American households added a pet. And actually it used to be more, I think it was like 60% of American households have pets. But now after Covid, I think it's about two-thirds, so it's gone up quite a bit.
Diego Torres-Palma:
So walk me through. Let's say I was a vet five years before you existed and brought this to market. My experience sounds like an ER doctor to be honest with you, based on what you're saying. So then I go, okay, I'm going to go work for Modern Animal. What is it? What's my experience? How is it different? What does the tech enable me to do or enable? What's the thing as a business that you're making easier?
Steven Eidelman:
And it's worth talking about the experience of the pet owner and what we've designed there, as well as the experience of a veterinarian or a technician, who we refer to as a nurse working in our practice. Let's start with a practitioner. So from a practitioner point of view, it's simply just designing in the experience of working there with intentionality from scratch. So when we started, we got a lot of things wrong and we're constantly iterating. And it's the idea, the premise that we are going to continuously improve bit by bit. So whether it be the software system–we built all of our own software. When we initially launched it, it was objectively worse than what had been there before. But we owned it, so we've continued to iterate and build it better. And the whole point of that is to allow the doctor to focus on the medicine.
So less time spent writing medical records, less time looking for information. That's not entirely manifested today perfectly, but we're constantly improving on it. And it's things like we don't have a phone system in the clinic. Doesn't mean that our pets can't reach us, but in the clinic, we don't have phones that ring all day long. If you work an hour in a veterinary practice as an outsider, you will not believe is how much the phone is ringing. I mean, just nonstop. And if you're a practitioner, you're trying to focus, it's really hard to focus. And the amount of noise, the amount of distractions, the amount of appointments getting jammed into the schedule last minute. It's constant chaos. It's an incredibly stressful environment. I mean, veterinarians have been going through, one of the biggest challenges for them, has been there's a huge mental health crisis, and the highest suicide rates of any profession.
And so there's just a lack of focus on this population and how can we support them. And putting aside the mental health issues, which is a separate issue, are you creating an environment that is at least alleviating some of the burden and the stress, whether it be administrative or otherwise, that is actually not serving the objective of that person, which is to deliver medicine? And so for us, it's how do we support them with better trained staff, everyone being on the same page, a better culture, eliminating the distractions. When you have, the way we think about it's, if we can have our technology eliminate friction in the appointment, the goal is not to make it so much more efficient, so we can see a lot more appointments. The goal is to actually just allow that experience, so the doctor is present and focused on you and the conversation they're having with you.
Diego Torres-Palma:
So how do you do that? So you have no phone. So that means if I'm trying to go, I have the app and maybe I request an appointment, and then there's somebody, maybe a practitioner, a nurse that's sort of managing that schedule. And then I imagine the biggest friction point based on what you said before is financial? And so then maybe you guys are given an estimate before the people arrive?
Steven Eidelman:
Yeah. I'll paint the experience of the members' experience with Modern Animal. Everybody becomes a member. So you sign up, you download our app, you become a member.
Diego Torres-Palma:
And it's free to sign up?
Steven Eidelman:
Membership is $129 today for a year. And what that means is you have 24/7 access to our team through the app. What that means is you have access to virtual care.
Diego Torres-Palma:
It's like Telehealth?
Steven Eidelman:
It's Telehealth, and just in general, a kind of support, staffed by nurses all across the country, who all have access to your information because we actually built our own system. The veterinary industry today is operating primarily on a on-premise software system, so no one can access the medical record outside the four walls of veterinary practice, which makes doing any of the stuff that we are all coming to expect in the modern age impossible.
Nick Conrad:
Especially if you're traveling and your pet gets sick while you're out. They have no access to anything.
Steven Eidelman:
Well, even more in the practitioner's side. So if a practitioner is not operating within those four walls, they don't have access to your information, so they can't help you. So people got excited about telemedicine. Well, telemedicine doesn't work that well if the person you're talking to has no idea who you are, or who your pet is, or what their past medical history is. So as a member, you have access to us 24/7 that way. And that's all free via chat and video. And we actually had to remove phone service for our members because we had so much demand. Basically like 80 to 90% of our phone calls were people asking to get off the wait list when we first launched. And so we took the phone lines down because you can Google us and go on Yelp and you call.
But we're adding it back, so you actually will be able to call us just not in the clinic. You can call our virtual care team as a member, you have access to us 24/7 that way. And you also don't pay exam fees. So if you step foot in any veterinary practice in LA, let's say you're going to pay $75 for an exam fee. You might pay a hundred or $150 for an urgent care or an emergency fee. And so as a member, you have seamless access. And the whole point there was to break down the barriers to accessing care. The financial barriers is a separate issue, but access meaning in that moment of "something is wrong with my pet," what I was seeing in the industry over these years was there was a lot of hesitation to go to the vet. Either because you don't trust the vet, because it's not transparent, everything's opaque, and you always feel like you're getting ripped off, or because it's a burden. If you're going to go, you're going to be in the waiting room for an hour.
It's going to be this negative experience. And so we wanted to make it a more positive experience and eliminate those barriers. So access through the app, access to a network of clinics that actually communicate together. There are no brands in the veterinary space. There's really only a couple. And you actually can't seamlessly go from one clinic to another. Most of this industry has been locked in a phase of consolidation, meaning these big financial institutions come in by clinics, they just roll 'em up and they themselves sell to another one. So most people don't realize, but their veterinary practice is probably owned by a private equity firm and they just haven't changed the name on the front door.
Diego Torres-Palma:
But they're still segmented within that private equity?
Steven Eidelman:
They're completely segmented.
Diego Torres-Palma:
Okay.
Steven Eidelman:
There's zero communication across them. But you wouldn't even think to go to another one, because your vet is this one vet and they're either available or they're not available, and that's it. So for us, in LA for example, we already have five clinics. We'll have about a dozen by the end of the year.
Diego Torres-Palma:
So for you, the play really is, probably expand everywhere as fast as humanly possible. That's probably why you have some Capital. Two, there's a database you're building to some extent. So let's say you have 14,000 golden retrievers in your database. At some point, I would imagine some similarities around they get this illness, and when that happens, you can start to do some sort of regression or some sort of data mining around that. Is that accurate? And then you get sharper as a business, as a whole clinic essentially.
Steven Eidelman:
Absolutely. I mean data, everyone's always excited about data and it's like, well, what are you going to do with the data? For us, it's really actionable.
Diego Torres-Palma:
How so? There's lot of mutts out there too, which probably make the data not as useful.
Steven Eidelman:
There was this thing I saw in the pet industry, there was this interest in this personalization. I'm actually quite bearish on personalization. I don't think most people, even for themselves, want something super personalized, and most people actually want whatever the person next to them that they look up to has. So I think the same is true for sure, for pets. I think there was a trend towards personalizing food, this very specific food. The reality is people just want to know what's the best thing that I can afford in access for my pet or for myself. And so I think for us, it's really just about optimizing the care delivery. And so data for us is really valuable to know, are we tracking the outcomes? Are we tracking the inputs to those outcomes? And can we change the inputs better?
Diego Torres-Palma:
So as an operator, from an operator data set?
Steven Eidelman:
Operator, but as a medical service, that delivers medicine, right? I have this thing we call the four commitments in our business. So the four commitments for us are medical quality, member experience, employee engagement, and profitable growth. These are the four things that we can never compromise on, and they always have to be in balance. So everyone who comes to modern Animal and works at Modern Animal knows we are here to grow. We're not here to build a clinic or a couple clinics. We want to have an impact at scale in this profession. But everyone also is here because we are committed to delivering the highest quality of medicine. We're committed to delivering a better place for people to work and the best experience for pet owners to access care. So we're not pursuing each of those to infinity, but there's a certain level that we have decided as a team, this is the bar we want to set for ourselves, and we have to keep all these things in balance.
And so for us, data comes into play for all of those. I mean, as an operator, it impacts profitable growth as a service that delivers care to animals. Are we able to improve medical quality and medical outcomes? Are we able to minimize what we call adverse events? So negative events that happen at every single veterinary practice, most people just don't see it. But in our practice, we actually actually invite you to come to the back. Everything is super transparent. You can see in most of our practices from the street all the way to the back, depending on how they're designed. But the goal is for it to be incredibly transparent. When that's true, you might see things. You'll say, "I can't believe you guys made this mistake." And the reality is it happens all over the industry. People just don't realize it because it's hard.
We're constantly trying to strive to eliminate those mistakes, obviously. And on the employee side, how do we use our data to understand what is it that drives engagement? We're constantly surveying our team. We're constantly serving our members. So data's really valuable from a medical point of view around avoiding things, but also to proactively drive certain outcomes. So how do we support a new doctor, a younger doctor, or a new grad in their development? If they have never seen all of these different types of cases, how do you support even a really experienced practitioner to maybe not just rely on their bias from their experience and actually show them: "Hey, X percentage of pets who've had these symptoms had one of these types of diagnoses." We're not necessarily doing all that today, but all of this is possible because we own our own systems, we own all our own data, and it's actionable. And from a pet owner perspective, similarly, how do we surface information for them?
Diego Torres-Palma:
Do they have a login where they see all the information in that way?
Steven Eidelman:
Yes, in the app, you do everything from you book your appointment, you select your location, you can select a doctor, you can tell us what kind of appointment it is.
Diego Torres-Palma:
Fluffy can go anywhere, any other locations. This is fascinating. And so from your perspective, and this is might be why you're raised so much capital, it seems like you can acquire all of these clinics that exist today in batches, and then you grow super fast and then implement all the systems that you have in place with some understanding of what's going to go right or wrong.
Steven Eidelman:
There's a version of Modern Animal where that maybe was the path we would've taken, which is to buy existing clinics.
Diego Torres-Palma:
You don't like any of 'em.
Steven Eidelman:
We want to build 'em all from scratch. There's just too much stuff you're inheriting. Whether it be the culture, whether it be the physical layout, the size. We've gotten quite good at this is what works for us, and it allows us to be consistent. So we have doctors who work at different clinics.
Diego Torres-Palma:
So they can rotate around?
Steven Eidelman:
Yeah, and I think one of our doctors who has been here since the early days, she's worked at maybe three or four of our practices. And when I asked her what that experience was like, she said, "It was so much more seamless than what I've expected, but I came in, it feels like the same culture. It's all the same tools, it's the same expectations around how the workflow gets done. The members have the same expectations."
And so I think brand had become almost a bad word in veterinary medicine because of the consolidators, because of some of the branded players. And the vision for us was really if you can build this brand umbrella of trust from a pet perspective, from a practitioner point of view, it actually is really just seamlessness across the network, and it's not standardization. We're not trying to standardize medicine, so as a doctor, you come in and it's like paint by numbers. We're not trying to do that at all. We're really trying to give you as much support as possible.
So the data to your question earlier, is really, to support confidence in what medicine you're practicing. And that's really a longer term play for us. But really, at the end of the day, the experience is to eliminate the friction. I mean, that's ultimately what allows for you to practice better medicine.
Nick Conrad:
Well, with that, rewriting everything from the ground up. I know that your business model is very different than traditional veterinary business model where vets are making their money on the services that they can upsell (in terms of surgeries and treatments), and I believe that you offer your vets a set salary. And I've read somewhere that you also give them equity in the company. Has there been a noticeable kind of pushback from the established guard, so to speak, in terms of like, "Well, we would rather not have that," or has there been an adoption from both the people just coming out of vet school and those who have been in the industry for a while?
Steven Eidelman:
So the prevailing compensation structure in the industry is what people call production salary, which is essentially a commission. And it's not so much that the vet is actively trying to upsell you. I have never met a veterinarian who I think is upselling anybody. But the perception, the optics that that's the case, most people don't even know the veterinarians are compensated like that. If they did, I think they would be...
Nick Conrad:
A little more skeptical?
Steven Eidelman:
A little, and then they already are quite skeptic, a lot more skeptical. So I think for us, building for the future, building from scratch, it felt untenable–the idea that we would compensate based off of production. It doesn't mean that we don't necessarily want to compensate doctors for their work if they were kind of above and beyond. And that's sort of something we might evolve over time in regards to how you align incentives. But purely paying off of a percentage of the revenue that you drive feels a bit at odds. Even though in human medicine, that's how doctors are compensated. It's obscured for us though by the payer system.
Diego Torres-Palma:
Also in human medicine, if you're a top doctor, you have no incentive to go for the median because then, if you're salary is what it is, but you're a top doctor who sees, let's say 14 patients in the morning versus 14 patients in a day and collects a salary, you want to be compensated for that. And so it's a tough one.
Steven Eidelman:
Yeah, it is tricky.
Diego Torres-Palma:
If you're an elite vet or doctor, you should get compensated in a different formula.
Steven Eidelman:
And they do, but it's hard. We try to level them. So if you're a really experienced doctor, you're definitely getting compensated more. We're just trying to not drive the incentives in that way. And we also think that production salary has had some other negative consequences, such as collaboration across the team. I mean, I've seen practices where there was multiple doctors where they're essentially fighting over revenue. Who's going to do the dental procedure for a client? One doctor goes out on vacation, the other doctor sees that pet for a separate issue. Now they try to get that procedure scheduled with them. I'm not saying that's pervasive, but it's just sort of subconsciously or the unintended consequences of that model.
Diego Torres-Palma:
It's such a hard problem to solve. There's so many problems within what you're trying to do.
Steven Eidelman:
This business is not for the faint hearted. But I will say this, going back to the Whistle experience, that is what's made this business so much fun as an entrepreneur. There is such a depth to all of the levers and all of the choices that we have to make as entrepreneurs building this business. And it's incredibly meaningful in that way. All the stuff we're talking about, it actually has very little to do with the pet. And so for me, individually, when I think about this business, I think about the reason it gives me so much energy and there's so much focus, and I think this is true of a lot of our team. If we can impact the practitioner, if we can build the absolute best place for them to work and practice medicine, I don't just mean the easiest place to work or anything, it's a hard job and there's not a lot we can do about that, on the margin, we can make it easier. But if it's the best place to practice medicine, that's the best gift we can give to this profession, and then they are the ones who take care of the animals. So for us, it's really about building the best system for them to operate within. And that's a really fun problem, and it is complex and there's a lot of hard choices, and choosing to build all of our own clinics from scratch.
Diego Torres-Palma:
I wanted to dig into that. Most entrepreneurs specifically that come from a tech background, they really don't understand design in any real capacity as it relates to architecture, right? It's almost like you basically might as well speak a different language to them. I'm a coder, I'm a hustler. You slept on the floor. You mentioned the Whistle story. All the guys in one room. I guarantee you that place was not nice. Probably smelled. Right?
Steven Eidelman:
It was pretty nice.
Diego Torres-Palma:
It was nice. Okay, but you see my point, right?
Steven Eidelman:
An SF loft.
Diego Torres-Palma:
But for you to really invest in a design experience where there's elevated experience, was that a no-brainer to you? Was that something that you had to figure out?
Steven Eidelman:
But just as a consumer, I mean.
Diego Torres-Palma:
You understood the investment.
Steven Eidelman:
Yeah, I mean, it's a great question. I think that design in the veterinary industry is completely under-appreciated. I mean, I think a lot of people would focus on designing for the animal. In some ways, I would see pitches around people trying to design spaces or features of different products or services designed for the animal. And I think the reality is the veterinary experience is predominantly human experience in that when the pet owner is there, they're there for a really long time. You're spending hundreds if not thousands of dollars of your own money. The experience of going to a coffee shop can be so much more pleasant, and you're paying four or $5 for a latte. Why is it that I'm going to a veterinarian, and I'm paying $400 or $500, and it's so much more inferior? And so I think for me, the bar has to be higher.
And I don't think good design costs so much more money. We're not trying to over-design our clinics. Sure, they definitely cost a little bit more, but they actually cost a heck of a lot less than buying an existing clinic. I mean, veterinary clinics today, and this is now in 2023. Well, I don't know what 2023 data would show. But at least 2022 is already off of the peak that we had been living in the last few years. You can buy a good independent hospital for 10 times EBITDA. Let's just say maybe a little less, a little bit more. Prices got up to 20 times EBITDA for clinics, small groups of clinics in 2019, 2020. So if that's what people were willing to pay for a hospital...I mean, you're buying a pretty old hospital that's doing a whole bunch of things backwards, but they're making money, for a lot of money.
And we can build a clinic for a lot cheaper than that, and fill it because we built a great experience for people to access care pretty quickly. And then the question is, can we, can we hire the best doctors? Can we hire the best nurses to staff it? And that's where there's a massive shortage right now of veterinary talent. I mean, it's a crisis for this country. We have, and there's like 18 job postings for every veterinarian in the US right now. And we're going to be short tens of thousands of veterinarians by 2030. I mean, it's a huge problem.
Diego Torres-Palma:
Wow. How do you solve it?
Steven Eidelman:
I don't think that we Modern Animal can solve it. I think that there's a industry-wide sort of problem people.
Diego Torres-Palma:
Yeah, that's interesting.
Nick Conrad:
Sure. What do you find it that it stems from? Is it people don't want to get into the industry anymore because of X, Y, and Z?
Steven Eidelman:
Yeah, there's a bunch of issues.
Diego Torres-Palma:
America's just lazy. I mean, the pandemic, I don't think helped people.
Steven Eidelman:
No, veterinary school is incredibly competitive. I mean, it's more competitive than human medical school to get into. So there's not enough schools, the class sizes are too small. We don't have a mid-level practitioner. Think about in human healthcare, we now have nurse practitioners. We don't have that in veterinary medicine
Diego Torres-Palma:
Are you trying to attack that in some way?
Steven Eidelman:
We're too early in our development to be able to allocate resources towards that. But I think over time we absolutely need to help drive it. There's some really passionate people in the industry working on it.
Diego Torres-Palma:
That's hilarious. And that becomes, for you as a business, a problem. Yeah, that's the bottleneck.
Steven Eidelman:
There aren't enough vets. And it's a huge problem. What my greatest fear, I think, is that veterinary medicine will become inaccessible for most people in this country.
Diego Torres-Palma:
Because of price?
Steven Eidelman:
Because of price, because what's the outcome of a supply and demand equation like that. So we have to raise our prices when we have to pay our doctors more. I want to pay our doctors as much as I can, but at some point we have to make the business work. And that's why it's one of our commitments: profitable growth. We have to be profitable or else the business doesn't get to continue building. And everybody on our team knows that So we try to pay as competitively as we can. We're still building a good business. But in this incredibly tight labor market, and this is true of so many industries right now, this is why we're dealing with the macro climate. We're dealing with inflation and everything. But it's good for labor across the United States, across all these different categories. But it also then results in higher prices for people.
And I think veterinary medicine is just one of these things where it's really tough. Investors love the category because it's all cash pay. It's a good business. It's fairly recession resistant. But on the flip side, it's incredibly expensive for people to get care. And this is why it's really important for us to be really transparent going back to how we compensate doctors. It's very powerful for me to be able to get on the phone with one of our members who's frustrated and to say, look, I know you think this doctor was trying to rip you off, but there's literally zero incentive for anybody in that building to charge you more or to give you services.
Diego Torres-Palma:
Wow. As you think about this year, so we're here in January 2023. What are the big things, the big milestones you're trying to hit this year?
Steven Eidelman:
I think for a lot of companies this year is going to feel really different. And I think for us, it's really about focus, focusing in on a few really key priorities. We're not going to be able to do everything we want to do. I think for us, it's organized by commitments. So across each of those four commitments that I was describing, there is something that we absolutely need to get done. And the general theme for us is we're scaling up this year. We're going to end the year with close to 20 clinics across California and Texas. We announced we're opening in Austin, and that's going to strain the team. We're going to triple our clinic count, we'll probably quadruple revenue. We'll probably double to triple the size of our team, mostly in our clinics. So there's a strain that's going to come from that, and how focused and diligent are we operationally and executing on that?
There's still a whole bunch of things we need to do. I was talking about adding back our phone lines, not in the clinics again, but to serve our members. There's things around ensuring availability for urgent care issues same day. There's things around how do we unlock hiring? We have an awareness problem still for veterinarians. If you're a veterinarian who's getting pinged? Well, every veterinarian's getting pinged right now by dozens of companies trying to hire them. How do we differentiate ourselves and stand out from the noise? And I think these are things that will help Modern Animal scale. While in parallel, I think we're really interested in helping push along some of the things we were talking about at an industry wide level, because we can't just sit back while sort of the industry faces this crisis around a shortage of labor. How do we build our own capacity to train and develop people?
The industry has done a really poor job of developing leaders. If you're a medical director of a veterinary hospital in the United States, you've probably never had formal training as a leader. And so we really would like to build that capacity to have really strong leaders. That's ultimately what determines how great of a place is it for most people in that practice to work, no matter what we do centrally. And so how do we empower great leaders locally? How do we invest in our training? How do we continue to evolve our software system to be more intelligent? Along the lines of some of the things we were talking about, there's a lot of exciting technology that's coming out right now around generative AI that is actually super relevant for us.
Diego Torres-Palma:
How so?
Steven Eidelman:
Everything from ingesting the conversation with a client and making sure we capture all the intent.
Diego Torres-Palma:
Gotcha.
Steven Eidelman:
Yeah. If you come and talk to us about five, six different things in the exam room, how do we make sure we didn't miss any of those things? In the chaos of the veterinary clinic environment, how do we streamline the creation of the medical record, so that you as a veterinarian are spending even less time writing medical records? I mean, no veterinarian became a veterinarian to have set in a computer and write medical records. So our goal is to have that be as little of what you do as possible.
Diego Torres-Palma:
That's really intelligent. The generative AI piece. That's interesting.
Steven Eidelman:
Yeah, I think it's going to be transformative for a lot of companies.
Diego Torres-Palma:
I totally agree. I use it now to write, because I don't consider myself someone who's very good in the written word at all. But now I can just type in three words. I can say witty, I can say sound like Bill Burr, and it is it better. And it's just so much better. And it's amazing. And then I edit it on my own a little bit afterwards, which is interesting. But to think it'll revolutionize everything. It can revolutionize the New York Times. You could even make it sound like the New York Times article. Yeah. I mean, you could do so much interesting things, but automation in support is interesting.
Steven Eidelman:
And we don't want to over-invest in that, but I think as a built from the ground up technology, technology first company. I mean our first employee, Keith, our Head of Engineering, I think the first day we started, we incorporated the business. Keith and I got to a WeWork and he started coding. So there's no other veterinary company in history that has ever started that way. And that allows us to continue to compound what we're able to do. The question is what do we focus on and do we have the right priorities? And I think to the point of this year is being really focused. And while we have raised a lot of capital, we certainly don't want to squander that. Most of it goes towards building clinics, but we've invested heavily in building the capabilities that I've been talking through. And so making sure we continue to invest really only where we need to and just making sure we execute at scale.
We're going to end this year with tens of thousands more members. We already have probably 20,000 members in our network that we're serving every day. That's hundreds, if not getting close to probably a thousand outbound inquiries from our members every day through virtual care. That's hundreds of appointments every day across our system. And we're just getting started. So in order to be able to do this at scale and to deliver that high quality medicine, we cannot compromise on the medicine.
Diego Torres-Palma:
Such an interesting problem. I mean, it's really like you're a clinic, you're a tech-enabled clinic. I have a lot of friends as doctors in the medical field who have sold their clinics. And so as you're going through it, there's a lot of similarities to the acquisitions that acquire in the medical space. You're doing it people first, not patient first, which makes sense because the patient can't talk, which is the right move. And then ideally, like you said, the tech compounds, to become a game changer for either growing quickly, acquiring, or just telling you what your blind spots might be. It's really fascinating. It's hard, like kudos to you. It's a five dimensional problem.
Steven Eidelman:
It's only fun to build this type of business I think because it's hard. It's not hard in terms of what was hard about Whistle. Whistle was hard because the struggle for product market fit is not fun. People want this service, and people want to work at Modern Animal, and people want to build modern animal. And so that part's really fun. The hard part is how do you make the right choice? Every entrepreneur is making thousands of decisions with very little data. And so how do we continue to capture more and more data to make more informed decisions, and hopefully get better and better at making decisions? But that part's really fun. And I think it's a business that it's very easy to see how it has longevity. And it's very inspiring. I already sold a business sort of a few years into building one. I have very little interest in doing that again. The goal of this business is very much to be a generational business that completely changes how this industry operates. We're only going to be able to do that at some level of scale. My hope is that there's hundreds of clinics, maybe thousands of clinics one day, but there's 30,000 veterinary clinics in the United States alone. Not to mention internationally.
Diego Torres-Palma:
That seems low to me. That seems like a low number.
Steven Eidelman:
Of clinics?
Diego Torres-Palma:
I mean have's no reference point. But it sounds low.
Steven Eidelman:
There's also wide ranges of size. I mean, there's clinics that are one or two doctors and there's clinics that have 50 plus doctors. So there's a wide range of size.
Diego Torres-Palma:
From a marketing perspective, we can wrap on this. Anything exciting you're working on in 2023? I don't, I'm just thinking out loud. I know Uber, at one time, had Uber Health. And so I don't know if Uber Pet Health is a thing, an initiative that gets interesting and fun, or just if it's a complete tangent.
Steven Eidelman:
You mean partnering with others?
Diego Torres-Palma:
Yeah. And you mentioned the ecosystem, and it sounds like it's pretty good.
Steven Eidelman:
We have had a hard time partnering with other pet companies. When I say hard, I just mean it hasn't felt terribly aligned. I think we will.
Diego Torres-Palma:
Are people scared? Are they like, oh, what are they going to do with my data? Is it antiquated from that?
Steven Eidelman:
No, it's more just that it doesn't stack up to the bar that we're setting for the experience. I think a lot of pet companies are focused on the pet, not incorrectly. But what we do, every day, is the human being is the integral part. And so I think for us, well, who do we partner with to expand either care delivery for the veterinarian or access to care? And we have our own telemedicine, so partnering with the telemedicine company would make sense. Doing mobile veterinary care...well, you just can't do that much. I would love to partner more. I don't want to build everything. I think we would love to not build all of our own software, but there is not a good ecosystem around that. So I mean, from a marketing point of view, for us, it's just sharpening our message continuously, getting smarter at what are we, who are we, what our value is, and starting to tell our story more ourselves.
And I think brand has been really important for us. And I think at times it's been important because of the consumer, the pet owner, and making sure that it aligns with sort of the ethos that the customer we're going after shares. Increasingly, it's really about our employer brand. Do we build a brand that really resonates with this profession, this group of people? I mean, we've done some crazy stuff. One of the most fun things we did last year was we actually did a tattoo parlor at a conference. We noticed that that there's a huge subculture around tattoos. And so we went to a conference, we wanted to get attention from technicians, and so we offered tattoos (not in the conference hall, weren't allowed to do that). So we joked, we had water bottle tattoos (they were stickers), but then you could sign up to get tattoos across the street.
And we had, I think it was like 60 plus people get tattoos. And so we're doing that again in a much bigger way. And this time we're doing it actually in the conference hall at our next conference. I mean, there's a lot of really fun aspects to the veterinary culture. It's a subculture, and one that we want to celebrate. Did you or anyone else on your team get Modern Animal tattooed on? No, not yet. I did ask one of our designers to design a tattoo for me, so we'll see. I think she's going to deliver.